When I saw a sample of Cuir Velours in a traveling perfume sample box, my first – involuntary – thought was – there are so many excellent leather fragrances. Why bother? Is there more to say and smell on the topic? Can it be original enough? Upon smelling it, I decided it deserves a closer look.
Naomi Goodsir started as a fashion designer focusing on luxury hats, headpieces, and handbags, later expanding to fragrance (as many have done before). The perfumer behind this fragrance is Julien Rasquinet.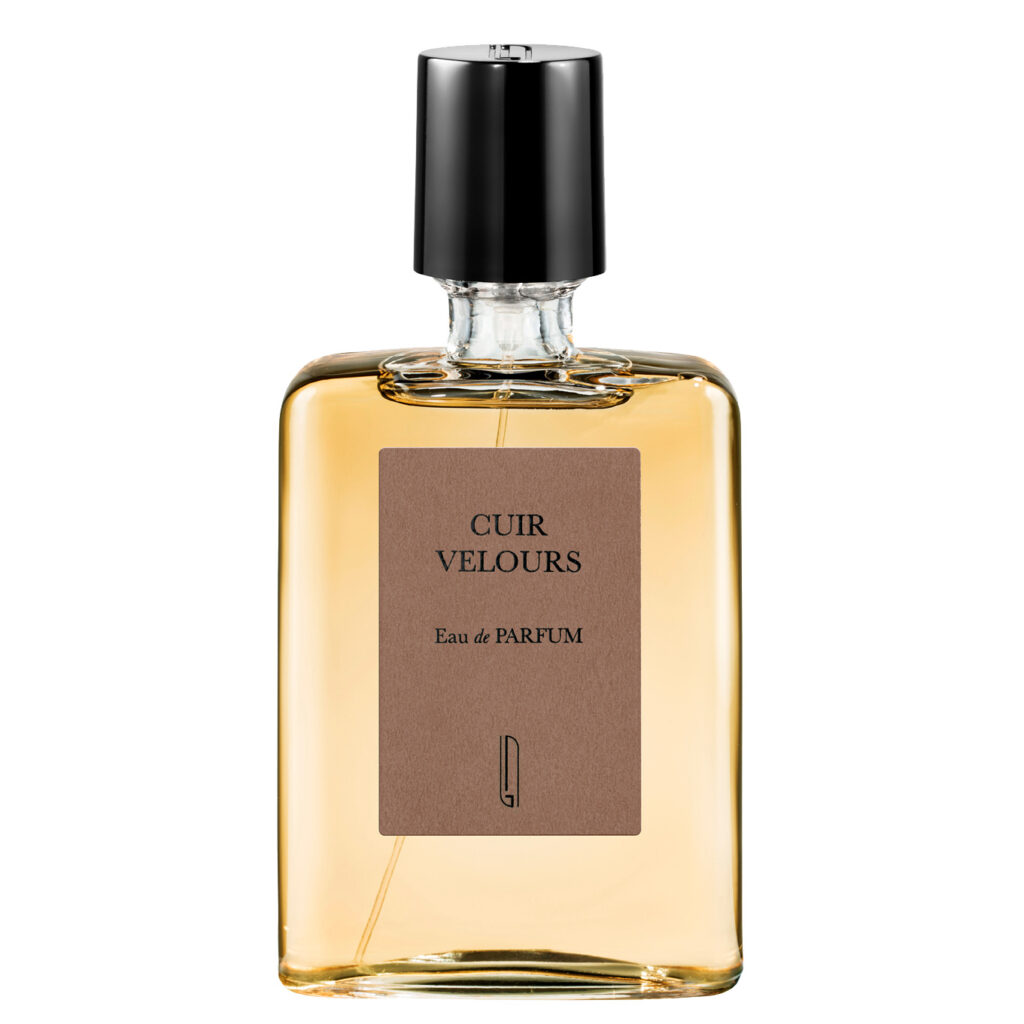 Official fragrance notes
Here is the official description of the notes: A deep & textured perfume, that evocatively encases the skin like soft velvet suede. A tobacco atmosphere supported by notes of rum, cistus labdanum, incense & immortelle – the everlasting flower (source: Naomi Goodsir).
Upon the first whiff, I made an audible exhale
It opens with an intense spicy burst – nutmeg, ginger, clove, allspice, cinnamon, a touch of bergamot, verging to dried fruit like dates and raisins – very reminiscent of the impression of a middle eastern spice market present in Serge Lutens Arabie, sans the animalic cumin notes.
Often – to my nose – spicy blends come off as muddied, "perfumey" concoctions, but here you can tell them apart, like smelling a jar of pumpkin spices you've just blended in your kitchen. A few minutes in, the spice notes are mellowing. Somewhere along the way, I get whiffs of candied orange peel, and the spice is becoming increasingly syrupy and boozy – I assume this is the rum accord.
Sweet, honeyed, syrupy body
There seems to be a dusting of tonka (not mentioned) dancing in the background. The syrupy, smoky, hay-like impressions of immortelle give Naomi Goodsir's Cuir Velours a very honeyed feel, without the waxy texture honey can have.
The leather note is fuzzy and warm, present from start to finish, sweetened by the boozy notes, grown up with touches of tobacco, and supported with smoky incense and resins in the drydown.
The drydown becomes increasingly smoky and resinous, while still retaining a fair dose of sweetness and leather notes. There is a tick of a sour smoky note, almost like a pinch in your nose coming from burning, slightly wet leaves in the autumn (not offputting though).
The last transition I detect is a turn towards increasingly powdery leather drydown.
Fuzzy, soft, cuddly suede leather
With the sweetness and spices, it comes off very gourmand. The leather isn't harsh – it is soft, worn in, easy to pull off, with a fuzzy, soft texture. Well done for the suede note.
It is quite beautiful, dark and warm, and wearable. The sweetness might be too much for someone who doesn't like gourmand vibes, although it has savory notes that counterbalance it.
Performance and wearability
Suitable for cold weather, and possibly (and with a very light hand) dry heat. I would stay away from it in warm and humid climates. If you like dark gourmands like TF Tobacco Vanille or SL Chergui, this is in the same vein – give it a sniff. It is quite a performer. Hopefully, it won't choke a whole room of other humans, but I'd caution against being heavy-handed for indoor occasions or close encounters with others.
Over to you. Did you smell Naomi Goodsir – Cuir Velours? Do you have a favourite boozy leather perfume?