In my previous article on fig, we broke down the composition of fig leaf fragrance accord. Understanding what facets it has makes it easier to imagine the versatile uses of fig in perfumes – be it highlighting the coconutty, lactonic facets for tropical and heady scent, zesty green juicy for high heat and humidity, earthy green notes for a sketch of the whole tree, or woody-spicy aromas for warmer, deeper, more masculine or cold weather oriented fragrance.
Let's take a deeper look at some great examples of fig perfumes.
1) Premier Figuier by L'Artisan Parfumeur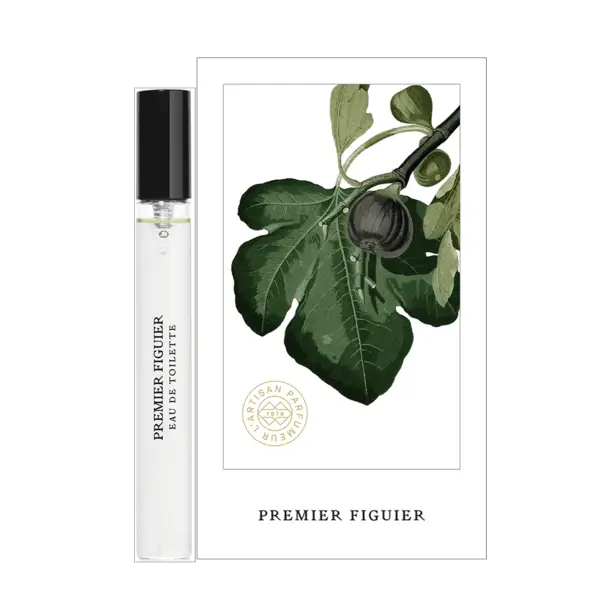 It's hard not to start the list with the #1. Premier Figuier. What a fitting name. Olivia Giacobetti's start of an affair with this note would span throughout her career and inevitably change the world of fragrance.
The fig leaf here is green on steroids, with galbanum-like vegetal undertones. The lactonic bottom notes are a blend of coconut, sandalwood, and almond milk. The coconut note is less prominent, but the base still forms a very creamy impression. The base here is just that – a bed for the central notes to sit on, definitely not a syrupy cream that it might appear like when reading the notes pyramid, but rather a milky sap oozing from the unripe fruit.
2) Philosykos by Diptyque
The green notes in Philosykos are more of a crowd pleaser, with the coconut more prominent and sweetening things up a notch. For more on this juice, head to my previous article with a list of beach perfumes, where I reviewed it in greater detail. It's green, coconutty, woody and sweet at the same time.
3) Noble Fig by Ferrari
I have no idea why this is so underrated. Noble Fig is fresh, aromatic, slightly citrusy, still green fig, with the lactonic notes almost gone. They linger in the background if you pay attention. But they aren't mentioned in the notes pyramid.
It leans very green, like breaking off a small branch with fig fruit on it. No beachy coconut here, just a barely noticeable milkiness. Mandarin orange brightens the opening with a citrusy blast, pink pepper with sage keep things very grown-up. Far from a freshie you will smell everywhere – rather niche-like construction, distinct, and very well suited for hot weather. And perfectly unisex. You can buy this for around $22. Almost too good to be true. Not even the presentation fits the price – the flacon feels heavy in your hand, as does the cap covered in leather. One of the best values for money.
4) Ichnusa by Profumum Roma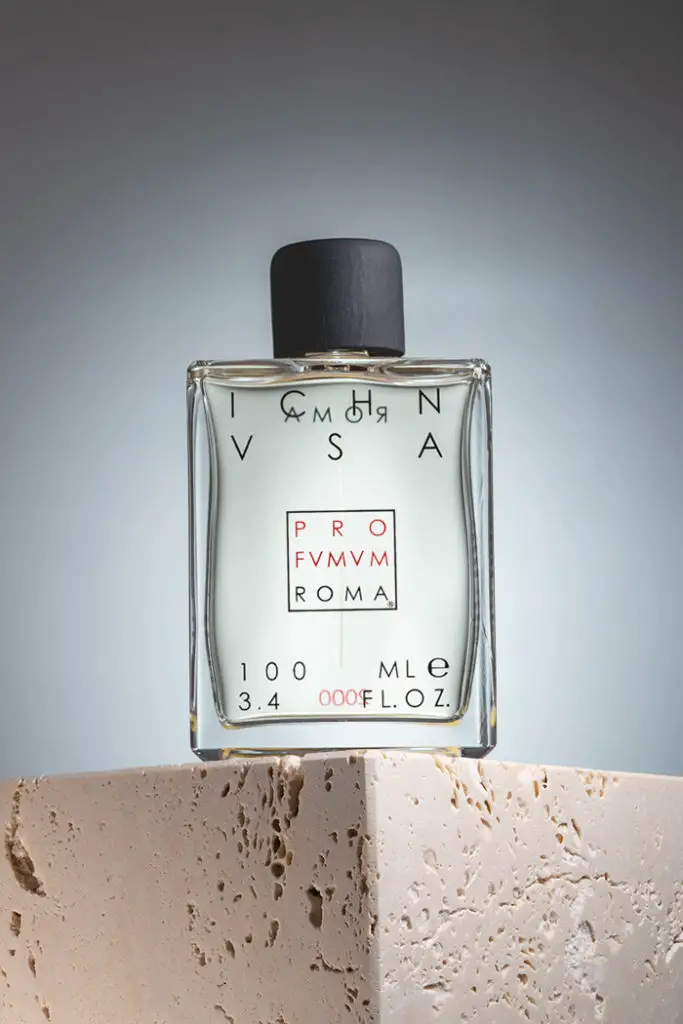 There will be a day when I write a list of besties without mentioning Profumum Roma. I promise. But that day is not today.
Ichnusa is a green, very natural smelling, photorealistic freshly crushed fig leaf. With a salty sea breeze and herbaceous aromatic, earthy, piney myrtle and dry (as in coumarin or tonka-type) hay balancing things out. Ichnusa is unique and I can see that it may not be loved by everyone.
Ichnusa isn't milky (although again, there are faint lactonic coconutty notes in the background). Nor sweetened. It isn't sex in a bottle. But it is unique, and it will turn heads. As Profumum keeps their perfume concentrations super high, this is another good performer, possibly the strongest on this list. 
5) Lilt by Rouge Bunny Rouge
Let's abandon the hyper-realistic fig tree fumes. (You could label them as soliflores since their notes represent different facets of the fig tree and its surroundings). Starting with Lilt, we take a look at some more abstract compositions.
Lilt is somewhere mid-way between the two – I feel that calling Lilt a soliflore would be a challenge. Fig is accompanied by peach (although again, peach notes are often present in the fig accords itself already) and violet and sits on a vetiver-musky base.
To me, this is still a fragrance with that realistic touch that fig accord often brings. An illusion of being in a park near a tree with the ripe fruit still on it. Not necessarily a fig tree. Maybe not even peach tree. It could easily be a pear, old and majestic. And I am sitting on a wooden bench. It's right after a rain shower. The droplets mix with the smell of musty wood on the bench. Some fallen autumn leaves are starting to decay around me, but the tree still didn't change its color; it remains green. It's melancholic, like the last whispers of warm summer weather.
6) Un Jardin En Mediterranee by Hermès
Jean-Claude Ellena, a rockstar-level master perfumer in the house of Hermès, famously claims that nature overcomplicates things. "Nature is complicated – 500 molecules for the odor of a rose and even more for chocolate. With synthetics, I can conjure the aroma of cocoa beans with two molecules (…). A perfumer is, above all, an illusionist." (in The Wall Street Journal, Oct 2011). He claims to take inspiration from nature and create abstract artistic illusions, not a copy of nature itself. And the resulting style is unique to him.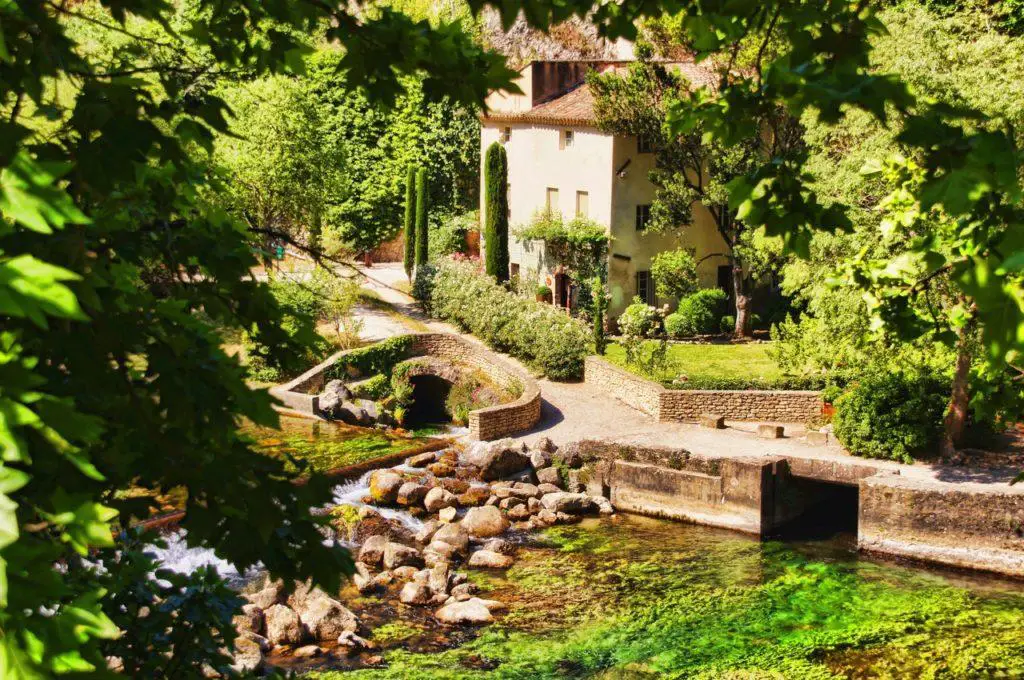 This fragrance is the first in the line of "Jardins," and it marks the start of Jean-Claude Ellena's career in this house – not a usual feat in perfumery these days, where houses contract fragrance companies and their noses for a particular fragrance and then move on to the next thing. 
Un Jardin En Mediterranee carries that typical signature of Jean-Claude Ellena. It exudes his sheer, transparent, diffusive style. Not watered down, though. The opening is bright and citrusy. It dries down to cedary, coniferous (juniper) fig leaf, warmed up by a touch of florals in the middle. Clean, green, herbal, soft, and fresh with some solar warmth at the same time. Relaxing, almost therapeutic, comfortable hot weather companion. Its composition is fairly simple, and yet it truly is a work of art.
7) Womanity by Mugler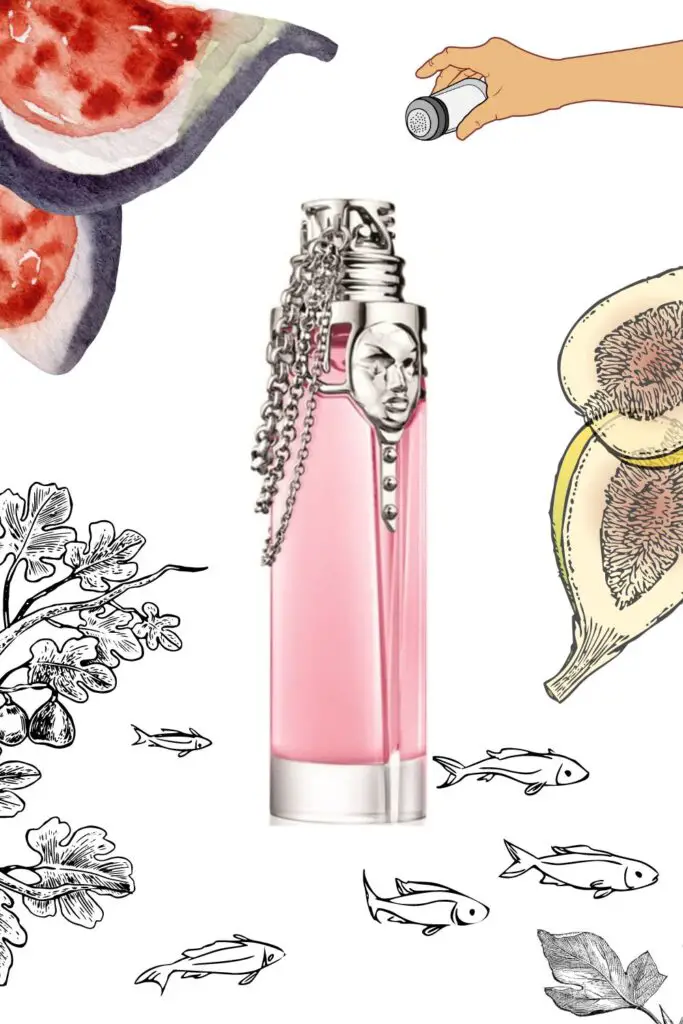 I have strong feelings for this fragrance – like one would have feelings for a bullied child.
To my nose, this juice is very approachable. Salty, aquatic, marine fig. With some juiciness and minimal lactonic notes. It sits on a musky bed with a touch of wood wrapped by light floral hints (I can't quite put my finger on what floral material this is – Lilly of the valley? Magnolia?) and seaweed (what they "creatively" called caviar).
But the masses disagree with me.
The marketing, the name, the color, the bottle, even the note pyramid appear as if they came from a marketer's bad dream. Somehow the idea was so hilarious that everyone in the meeting room just laughed it off. Until it came to life. I do like the bottle, but the contents just don't fit it. It's like a bit of a surprise – like trying to sell fart spray in a fragrance bottle.
It all seems to create the wrong expectations that result in that love/hate reception it gets. Decomposing fish? Sweaty female privates? Rotten figs? Blood? Mermaid in an antique store? (Yes, seriously.) It's all out there for you to read on Fragrantica. Well, at least it's an entertaining read.
The contradiction might be what gets people talking. In that case, I salute that marketing genius.
Suppose you can get past the presentation and approach this without a lot of bias. In that case, this is beautiful salty marine fig, a juicy one, with a dominant oceanic vibe, unlike anything else out there (like most Mugler creations). It performs well; it is robust. With different marketing, this could be passed as a niche perfume and command triple the price.
8) Gris Charnel by BDK Parfums
The most grown up, dressed up fig. It comes off as very elegant. Warmed up by spice (cardamom), earthy, more of an in-between seasons approach to what is often regarded as a summer-forward note. The fig centers around its woody tones. There is a distinct creaminess coming from sandalwood, and powdery notes of iris. Entirely unisex. The fig gives the spicy opening enough of a fresh sparkle, before it calms down to sweet creaminess.
9) Gris Charnel Extrait by BDK Parfums
I can easily see both Gris Charnel EdP and Extrait in one fragrance collection. They are similar enough to share the name. Extrait is a touch deeper, warmer, spicier, more layered version, that is completely suitable for formal occasions and cold weather. The wood and spice are more present, laced with vanilla and tonka, steering the fig away from any connection with beach and putting in a much more cozier setting and putting it a bit in a back seat, with a touch of smoke and extra earthiness from vetiver. Elegant, neat cold weather fig.
10) Le Pavillon d'Or by Dusita Parfums
Like a walk in an enchanted forest. Le Pavillon d'Or draws on the green, woody, and earthy hints, fresh breeze carrying scents of the forest floor, herbs, and lichen. It evokes the colors purple and green, like violets scattered in a fairy garden. The fig leaf note is distinct enough, green and earthy, with only a slight touch of stone fruit. The powdery facets coming from the heliotrope keep it a touch feminine, the herbs and earthiness bring a sense of total zen. Fit for a day in the spa, unique, meditative.
11) Figues & Agrumes Lancôme
I associate both fig and jasmine flowers with Mediterranean. Smelling this, I can't help but imagine a coastal Mediterranean village with picturesque colorful houses. Where families still meet for a lunch at home during the workweek and take afternoon naps. Jasmine bushes vine on the facades, filling the inhabitant's bedrooms with its intoxicating scent every time a window is open.
With the fig shining through from beginning to end, the opening of this is zesty and green, similar to Noble Fig. Except Ferrari's figs are greener, and the citruses shine, here they sparkle. The jasmine here is creamy, and I imagine someone might completely miss it. It reads more gourmand than floral.
From time to time, a milky coconut makes a short appearance, a combination of the creamy facet of the fig and the jasmine accord.
The drydown retains some zingy Noble fig similarities, with effervescent fantasy wood and creamy lactonic tones keeping it on the feminine side. 
Honorable mentions for the best fig-centered perfumes
Acqua di Parma – Fico di Amalfi, Banana Republic – 78 Vintage Green, L'Artisan Parfumeur Premier Figuier Extreme, DS&Durga – Debaser,  Houbigant – Figuier Noir, Mancera – Fig Extasy, Molinard – Fleur de Figuier, Kyse Perfumes – Fichi e Panna, Simone Andreoli – Fico Nero di Sardegna, Armani Privé – Figuier Eden, Annick Goutal – Ninfeo Mio, Lancôme – Figues & Agrumes, Imaginary Authors – Yesterday Haze, Le Labo – Thé Noir 29.
If you'd like to learn about the composition of a fig scent, head to my previous article about the fig accord.