Tiare flower is a type of gardenia – gardenia tahitiensis (or taitensis) by its latin name. It is the national flower of Tahiti and Cook Islands and central to Polynesian culture and traditions. It has delicate white flowers with intoxicating, sweet, creamy scent. The smell of tiaré flower is often connected to memories of beach vacations, as its often used to scent tanning products.
While it plays a big part in Tahitian culture today, it isn't native to Tahiti. It originates in Melanesia and Western Polynesia. It was introduced by its indigenous people to French Polynesia and the Cook Islands.
"A single flower is frequently used for personal adornment in islands beyond Hawai'i. Try adding one or two to warm coconut oil, as is the custom in Tahiti and Samoa, where tiare is cultivated extensively."

Hawai'i's floral splendor, Angela Kay Kepler, 1997
In Polynesia, coconut oil was traditionally used for centuries as a beauty staple for skin and hair. The introduction of Tahitian gardenia led to the marriage of the two – people scented coconut oil with tiaré flowers, and in 1942, the commercial production of Monoi Tiare Tahiti started.
Gardenia flower vs. Tiare flower in perfumery
Technically, asking about the difference between the two is a bit of a misnomer. Tiaré is a type of gardenia – Tahitian gardenia, gardenia tahitiensis. But there are so many types of gardenias out there – and their scent can vary quite a bit, from hints of citrus and spice to creamy and heady. In perfumery, you will often see either "tiaré" or "gardenia" as a note in perfume's composition. Which is which?
It is tahitian gardenia (tiaré) vs. gardenia jasminoides (well, mostly)
If you see "tiaré" in the note pyramid, that's straightforward. But what about all the other, unspecified gardenias? Most of the time, it refers to gardenia jasminoides, also called gardenia buttons or cape jasmine. And nope, it is not a type of jasmine – but it does have a fragrance that is very similar to jasmin. And all gardenias are part of the Rubiaceae family – they are related to the coffee plant.
If you see gardenia note and it doesn't specify the type of gardenia, it very often refers to jasminoides. To make matters even more interesting, it is rather what the perfumer thinks gardenia should smell like (and whatever type of smell they'd like to highlight). The absolute of these flowers is so labor intense and pricy that gardenia accord is built by combining different facets of the smell using other materials (and other flowers). To keep things clear and consistent with the perfumery notes, I will refer to gardenia tahitiensis as tiaré flower and the rest – mostly gardenia jasminoides or cape jasmin simply as gardenia.
What does Tiaré flower smell like?
Tiaré has lactonic-creamy, fruity sweet, fresh green and heady, intoxicating scent, similar to plumeria (frangipani), jasmine and tuberose, with some spicy facets of ylang ylang. It has fresh, zesty green grassy undertones, earthy-mushroomy tones, and the fruity facets are reminiscent of stone fruits.
How is gardenia jasminoides scent different from tiaré?
Gardenia jasminoides smells more indolic than tiaré, but less indolic than jasmine. Both tiaré and gardenia jasminoides are sweeter than jasmin and somewhat fruitier. Tiaré seems to lend most of the creaminess. Frangipani comes across as the sweetest, although this can vary depending on the time of the day.
Tiare vs. plumeria, or frangipani
Tiare and frangipani are often mistakenly mixed up. They have somewhat similar scents and are often found together in fragrance, complementing each other. But these are two entirely different species. Tahitian tiaré is a gardenia plant with bushy growth habit, while frangipani is a plumeria tree.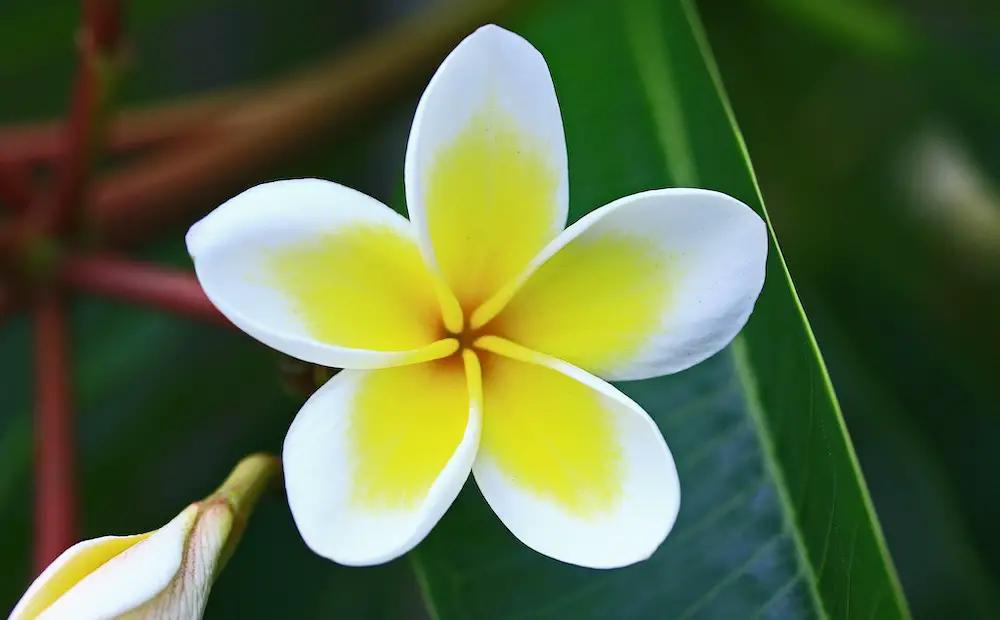 Tiare flower meaning
The tahitian name is tiare mā'ohi. Tiare can be loosely translated as "strongly perfumed" – ti means a "strong presence" and are means "scent" or "fragrance."
Tiare flower symbolism
In Tahiti, tiare is closely intertwined with culture. Necklaces from tiaré flowers called lei or hei are made to welcome guests. Tiaré crowns are used for festive occasions, weddings, and celebrations.
Islanders use the flower daily – women often wear opened flower behind their ear, while men wear unopened buds. A tiare behind the right ear symbolizes that the person is single, while wearing the flower behind the left – heart side suggests that the person is spoken for.
Monoi Tiare Tahiti
Using tiaré for beauty is a long-standing tradition in Polynesia. And not just beauty – in "Ra'au Tahiti," the local traditional medicine, tiaré is used to this day to remedy burns, sunburn, styes, headaches, mosquito bites, asthma, and pretty much everything from broken bones to depression. Pretty versatile.
While Monoi Tiare Tahiti is primarily a beauty oil, it uses one of the oldest perfumery methods of extracting scent from flowers – a hot enfleurage process. A method very rare to come across in today's commercially produced perfumes.
How is Monoi de Tahiti oil made?
Traditionally, refined coconut oil is heated (it is solid in room temperature), the flowers are mixed in and allowed to macerate for a minimum of 10 days. The oil is then strained. The process can be repeated with a new batch of flowers to intensify the captured aroma (although, to my knowledge, Monoi Tiki Tahiti is made through a single-batch process).
What is the difference between refined and unrefined coconut oil?
Refined coconut oil undergoes processes that remove unwanted particles like gums, free fatty acids prone to going rancid. The oil is heated, filtered and cleaned, which makes it more shelf stable and removes most of its aroma. Therefore, in Monoi de Tahiti, you can detect only a faint coconut aroma – its fragrance is very mild and comes mostly from the Tiaré flowers themselves.
Buy the original Monoi de Tahiti
Monoi de Tahiti is a traditional product that carries Appelation of Origin (AO), much like wines made accordingly to regional rules or traditional cheeses. The French government regulates the process legally.
In order for a product to carry the Appellation d'Origine, the product can only be made from coconuts and flowers grown in French Polynesia, use the traditional enfleurage method and comply with requirements for the amount of flowers steeped in the oil, length of maceration and strict quality criteria.
While Monoi Tiki Tahiti is probably the oldest commercially made oil from coconuts and Tiaré blossoms, there are several brands that pride themselves of the Appelation of Origin. If you want to buy traditional Monoi de Tahiti, it's best to check if the brand is listed on the Appelation website.
"There is something brown floating in my bottle, yuck!"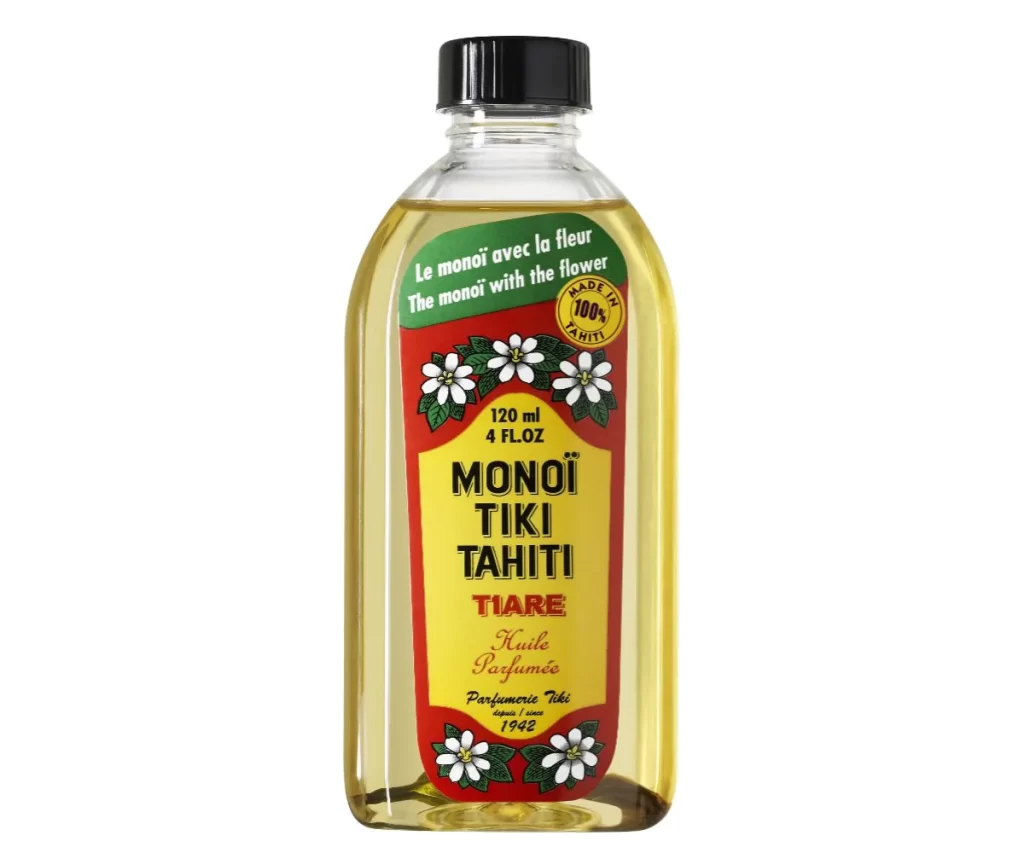 There is a special quirk Monoi Tiki Tahiti has (as many western consumers have noted in their uninformed reviews).
There is a black piece of something floating in the oil (if it's lucky enough to float – coconut oil solidifies in anything less than cozy room temperature).
Oh well, it is a tiaré flower conserved in oil during the maceration process. Since the product has been massively counterfeited, there were many efforts to ensure the consumer can check it's authenticity in a simple way – leaving a flower in the bottle is likely one of them.
Tahitian Tiare body oils
As the popularity of Monoi de Tahiti rose and more and more people discovered it on their vacations, brands in Europe and US jumped onto the exotic beauty tradition.
Yves Rocher as the western pioneer of monoi de Tahiti
Among first of them was Yves Rocher, which introduced their Monoi line in 1988, which was expanded throughout the years and is still part of its core product line.
Now the core product – "Monoi Traditional Nourishing Oil" – is 3.3 oz and is sold at $29 on Yves Rocher US site (Monoi Tiki Tahiti runs at something between $8 and $12 for 4 oz). This product isn't given the Appelation of Origin seal, but claims to contain 97.5% of high-quality Monoi of Tahiti (AO certified) oil.
A quick look at the ingredients list tells me that the remaining 2.5% of the contents (amyl cinnamal, linalool, and whatever "10333v0") is fragrance. That makes sense from the business point of view – a consumer likely expects the products in one line to smell the same, or at least very similar. Adding their own fragrance to the product enables them to do so. Although, some people complain that it smells too strong. But hey, they put their name on it, they source it, it is convenient to buy, people spend their money on it.
Yves Rocher and the rest of monoi line
The Monoi line contains also "dry oil" – and if you are after the original tiaré oil, just be warned that this only contains 2.5% of Monoi de Tahiti, the main ingredient is coco-caprylate – an emollient derived from coconut, along with Monoi de Tahiti, sesame oil and fragrance. The line also contains shampoos and a body scrub.
In 2010, Yves Rocher launched Monoi de Tahiti, an alcohol free fragrance that was more of a bodysplash, followed by Monoi Eau des Vahinés in 2012, and Monoï Vague d'été in 2020. I have a very faint memory of testing the first and second releases and being somewhat underwhelming, straightforward, but pretty girly-girl scents, perhaps too sweet for my liking.
Nars Monoi Oil
Not very expected from a brand focused primarily on makeup. They kept the black goo – aka the tiaré flower bud – in the bottle, and they try to source flowers that actually still resemble a flower. I mean, if you are going to shell $60 on 2.5 oz of body oil, then it probably should have at least a neat bud in there! (There are two types of this oil – one is body shimmer/bronzer without the tiaré bud, and the other is clear oil with the flower bud.) It is still mostly Monoi de Tahiti (of course, no AO certification here on the final product), but this time, they've pimped it with extracts to elevate the fragrance – frangipani, ylang-ylang, and vanilla.
The Body Shop was among the beauty brands that jumped onto making a product inspired by Monoi de Tahiti, but to my knowledge, it has been discontinued a long while ago. If you ask me, there is no need to reinvent the wheel – if you want to experience the original, simply go with the original. The scent is beautiful and mild and you can always layer it with a beachy type of scent.
Tiaré perfumes
While it may seem that there aren't many tiare fragrances on the market, it may be just harder to look for those – as mentioned earlier, the tiaré note is in almost all cases a fantasy note built with other materials. And the perfume house may call it whatever they like sometimes monoi, tiare flower, tahititian gardenia, or even simply gardenia.
It is often paired with notes and flowers that have similar facets to tahitian gardenia – ylang ylang, jasmine, tuberose, frangipani, coconut or vanilla, reminiscent of beach holidays and tropical bouquets.
Profumum Roma – Sabbia Bianca
White floral, tuberose forward, but nothing crazy for those who dislike the sultriness of tuberose. It almost quiet, and so-its-own that it actually takes a couple wearings to warm up to it. If you want to experience Tiaré as a floral without the sun tan lotion vibes, give it a try. Or at least three.
Guerlain – Terracotta Le Parfum
The classical beachy-beach scent, in the same ballpark with Soleil Blanc, Nuxe Prodigieuse and Bronze Goddess. It is paired with all the necessities of the suntan lotion vibe – white floral, yellow floral, coconut, vanilla, jasmine, a hint of warm skin. It is discontinued, but you can still snatch it before it is gone. The florals feel almost hot, to a point where this is wearable even in winter.
Cacharel – Lou Lou
Unapologetically big 80's, spice, incense, big florals. A classic. Get yourself a vintage, because Lou Lou was reformulated several times. And it actually is a type of scent that benefits from a decade of maceration in the bottle. Unless you have no intention of wearing it, stay away from the miniatures, as those will likely suffer some evaporation in the top notes over the years.
Mugler Alien – Eau Sublime
Another discontinued one (no need to panick, it was pumped onto the market by the truckloads and there still are plenty of them on the grey market) – a warm weather friendlier, creamy, jasmine-forward Alien, not overly loud, lightened by citrus top notes.
Ellis Brooklyn – Salt
Amber, musks, a touch of salt and sandalwood brightened with tiaré and magnolia, perfectly wearable for all sexes, fairly versatile and inoffensive without being generic. It's not going to go down the history for its performance, and it is rather intimate, safe for heat and humidity.
Goutal – Songes
Warm sweet and milky tropical flowers done in a grown-up, slightly indolic, animalic way, where tiaré is presented with frangipani and ylang ylang. Absolutely glamorous if you can pull it off and not a safe blind buy.
L'Artisan Parfumeur – Batucada
The most marine – almost manly – vacation, green, salty, a little rough around the edges. It reads very vacation-like if your idea of a vacation is sipping ranch water by the Carribean.
Mizensir – Poudre d'Or
Ultra feminine, elegant, delicate floral, with a powdery veil from iris, fluffy and creamy. Lovable, unpolarizing. It reads tropical ever so slightly making it wearable all year round. Its a beauty. Thank you Mr. Morillas.
Over to you. Do you have a favorite tiare or gardenia fragrance? Did you try the Monoi de Tahiti?