Sustainability, oud fragrances, and more availability are coming from the house of Guerlain. And more changes are on the horizon by the end of 2022.
Aqua Allegoria gets an environmentally conscious relaunch
You may have noticed that at the begining of this year, Guerlain introduced a reformulated Aqua Allegoria collection. The scents are unchanged. The bottles look the same. At the core of this redesign is sustainability (and more marketing $$$ spent on the relaunch and visuals). A rather unusual move by a classic fragrance house.
The brand claims that 90 – 95% of the contents are now of natural origin (oh well, that's the alcohol, right?). And the alcohol now comes from organically farmed beetroots. Other ingredients in the fragrances are sustainably sourced. The bottles may look identical, but the new ones are refillable and made of 15% recycled glass. Along with this functional change in bottles, refills became available to customers.
A neb sub-line to Aqua Allegoria
As if redesigning the whole line wasn't enough, they released two new Aqua Allegoria's, with the subtitle Forte, signifying a potential start to a whole new line. AA Forte Mandarin Basilic and AA Forte Rosa Rossa are the newcomers, both works of perfumer Delphine Jelk. The new duo is easy to tell apart by their golden labels.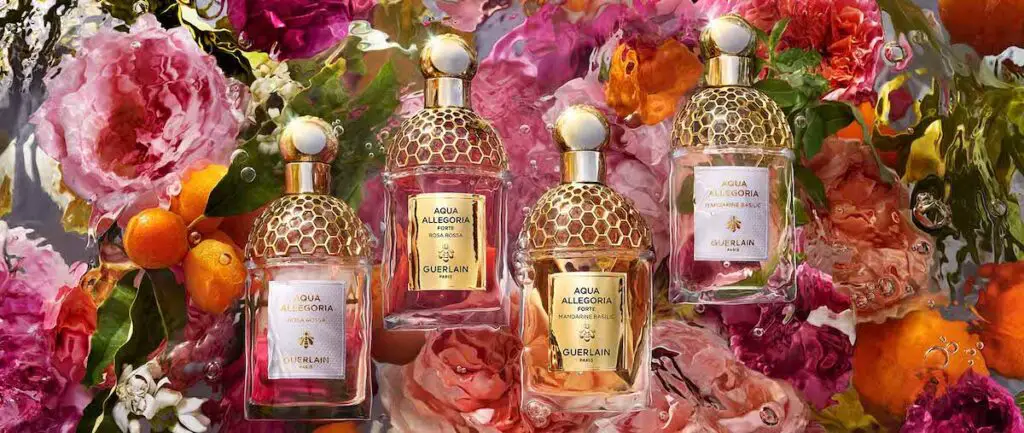 High end gets a whole new design line
Their more luxury collections also got a redesign – a more major one. L'Art & La Matière Collection comes in completely new bottles, has new fragrances added, and the classic high-end creations were all moved into this line. Rose Chérie and Santal Pao Rosa were added in 2021.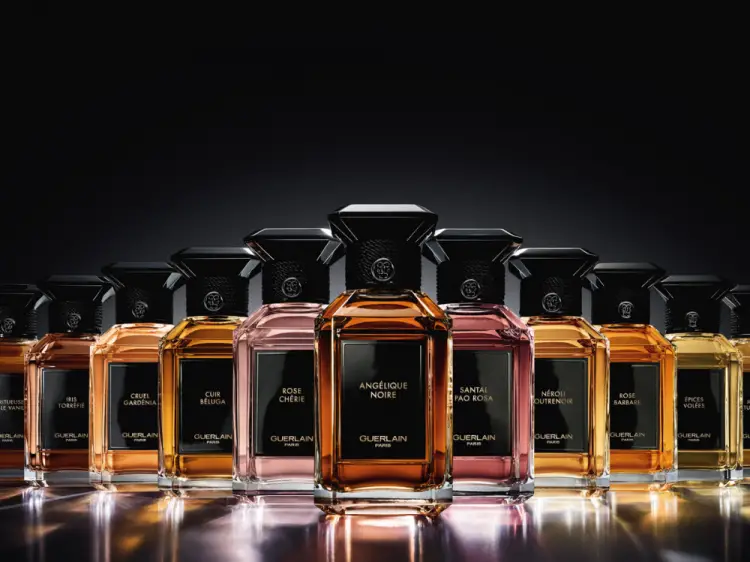 Les Légendaires takes bee bottles off the shelves
A "Les Légendaires" collection now includes a lot of the mid-range bee bottles. These are now gone (sadly). The new design is a nod to the legendary Mitsuoko bottle. Don't despair yet – you can still have the cult Flacon Abeilles with the juice of your choice through Guerlain's personalized service.
Simpler variation of the bee bottle is now reserved for a couple of Les Colognes. Aqua Allegoria and Les Absolus d'Orient draw from its inspiration, too.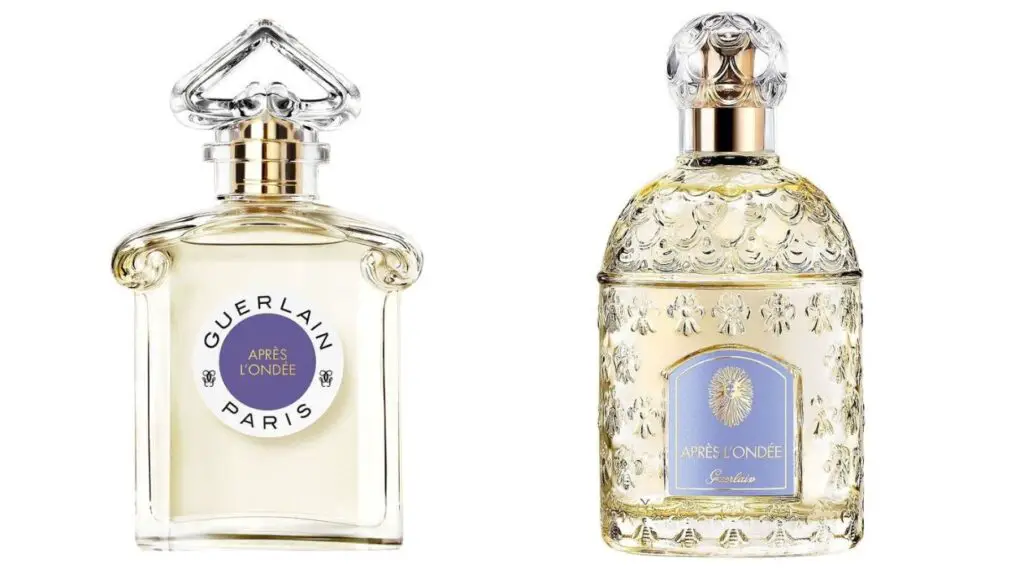 L'Art & La Matière newcomers center on oud
In 2022, Guerlain added Oud Nude, Cherry Oud and Oud Khôl – a soft, a fruity, and a leathery-mossy take on oud. By the way, the new visual presentation of these fragrances focuses on aroma materials – and while the visuals are beautiful, I can't help but think of Armani Prive, Elie Saab Les Essences and others.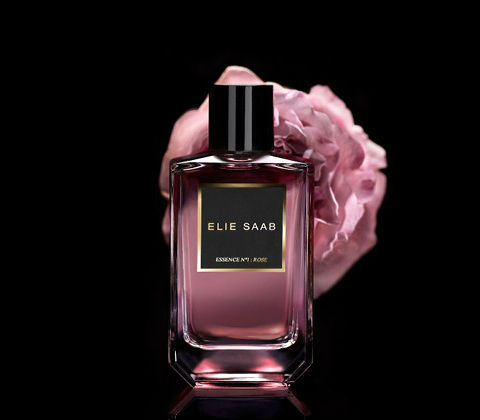 And Scandinavian aesthetic, especially fine dining. The minimal, ingredient-focused trend seems to be spilling into perfumery from other fields.
Where to sample the newcomers?
I was excited about Guerlain's news, as this seemed like a new direction for them. So I went out and around to sniff them. While this would be an easy task back in Europe, where L'Institute was in our city, on the east coast, it seemed impossible to track down a sample.
Training staff to push L'Art & La Matière into department stores
A chat with their representative revealed that even there are major updates regarding availability. At the moment, the only place on the east coast where you can sniff the whole L'Art & La Matière collection in person is in Guerlain's boutique at Saks Fifth Avenue flagship in NY (which also applies to the former premier collections).
Low and behold, they are working on retraining their own representatives throughout the US in department stores, and towards the end of 2022, the L'Art & La Matière collection will be available at Guerlain's points of sale in department stores (those that have Guerlain's own staff – I believe that applies to Saks and Bloomingdales).
The general trend of "masstige"
It only seems to be a logical step in times when prestige, niche, and designer are often sold side by side – a trend established a while ago. And still continuing. Where I lived in Europe, this masstige offering revolution was seemingly started by Tom Ford. Their Private Blends appeared in stores like Sephora or Douglas – first in flagships, slowly spreading to more and more locations. Armani Privé, Chanel's Les Exclusifs, and others soon followed suit, joined by Byredo and so on. If a customer is willing to shell out $300 on a bottle at Sephora, why should it be limited Tom Ford's, right? If you want to keep up with sales, it seems like this step is unavoidable – the target group willing to spend the cash on prime bottles is not unlimited, and if they get their fix elsewhere, then… well, use it or lose it.
In the US, the Kilian, Parfums de Marly, Maison Francis Kurkdjian and Bond New York are the prime brands often sold only a few steps from the zillionth flanker of the apple. And the sales very much reflect it.
Out of the Maison's control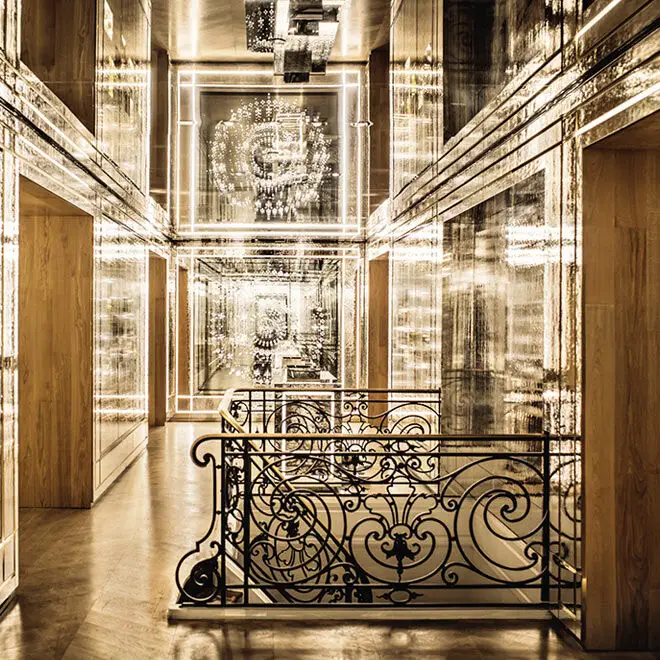 At the same time, I can only imagine Guerlain's executive's grin at this move. It takes the highest end from their stores – from their own environment. From the experience of walking into L'Institute, where the customers are treated like royalty. Visiting L'Institute feels like a special occasion. You just can't get that feeling in your bloomies. It's simply out of control. A step that seems unavoidable given the market trends.
(Although it's not that dire – the high-end will only be available from Guerlain's own staff, so they still will have some – albeit limited – control over the space and customer service.)
Over to you. Do you feel and welcome the trend of private/niche lines becoming available in department stores? Let's discuss it in the comments.