Some of the best things about the nation's capital are its countless museums – whether Smithonian or privately owned, it seems like there is always more to see. But one thing was missing – until recently. A cultural experience for our noses.
In May 2021, the Qatar America Institute for Culture opened its Perfumery Museum, the first permanent exhibition dedicated to perfumery in Washington DC.
I'm guilty of delaying my visit, despite living in the 'hoods. At last, I made it! I booked my visit when I figured I would have a babysitter watching my precious little ones, put a pretty dress on, and went for it. And what a relaxing afternoon it turned out to be!
Prepare for your visit to the Perfumery Museum
The Qatar America Institute for Culture resides in a beautiful historical building. And although there is no dress code demanded, I would suggest passing up on the flip-flops and a backpack that is ok for the attractions on the National Mall and opting for smart casual.
You need to book your time slot to visit online. The Perfumery Museum limits the amount of visitors at one time to 6 people. Which is awesome. Perfume is, after all, a deeply personal, intimate experience. Visiting is free, but you need to book at least 48 hours ahead of time. If you can't make it, be mindful of others and cancel your visit.
Small but personal experience
The QAIC has dedicated one room to the exhibit. Size-wise, it isn't huge. But, every piece of the collection is worth spending time on. After all the gigantic museums in DC, I actually enjoyed this capsule-sized collection that won't hurt your feet. It is the kind of exhibition where you can read every single description, take in all the details, stop, think, google, take pictures, go back to whatever caught your attention, and move back and forth as you please. It feels like walking into a small private art gallery.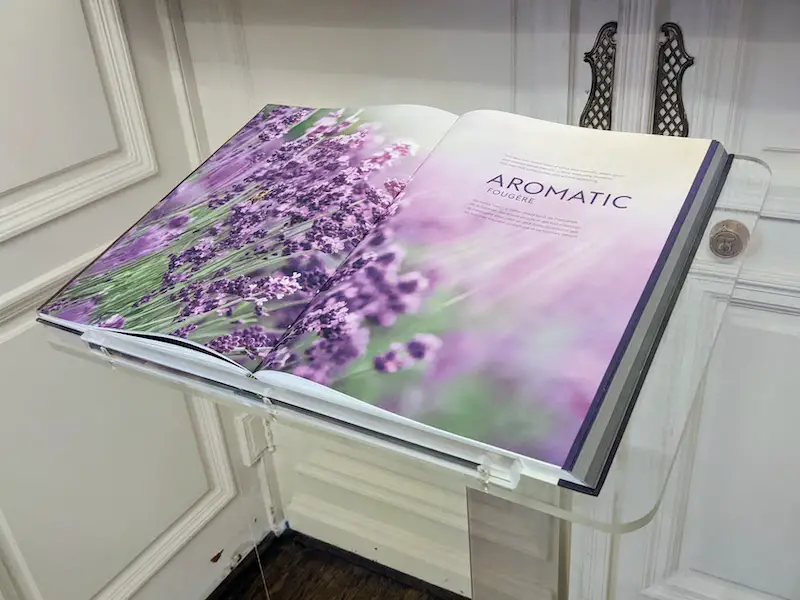 When you arrive, you will be greeted and escorted to the exhibition on the second floor. The personal touch here is such a nice contrast to the hustle of the city. It focuses on Middle Eastern history and influence in perfumery (without ignoring the western fragrance culture).
In the Middle East, there are many traditions revolving around fragrance. While you admire traditional mabkhara diffusers used for oud incense, you can have a conversation about how these scents are still used in Middle Eastern homes to welcome guests or during various ceremonies.
The exhibit is a brainchild of QAIC team led by Executive Director Fatima Al-Dosari. It started as a successful sensory experience at an event at the Library of Congress. As it generated lots of interest and positive feedback, the team started to work on a permanent installation. The plans began in early fall 2020, when the pandemic was in full swing. The museum opened its doors in May 2021 with all the necessary pandemic measures built into it.
The fragrance exhibit
You will learn about the paths of middle eastern fragrance materials being traded around the world, including the silk road and maritime passages.
The private collection of historic bottles
My favorite part? The bottles, of course. Reem Abu Issa is the Qatari collector who generously lent the Museum a range of historical bottles from her own collection and perfumery museum in Qatar. Some of them are over 100 years old. You know, back in the day when a perfume bottle was considered to be a work of art. The boxes were just as important as the bottle itself. They were not meant to be thrown away but were kept to protect the precious bottle, often adorned with intricate designs. Those bottles came wrapped in the finest silk instead of single-use cardboard and plastic.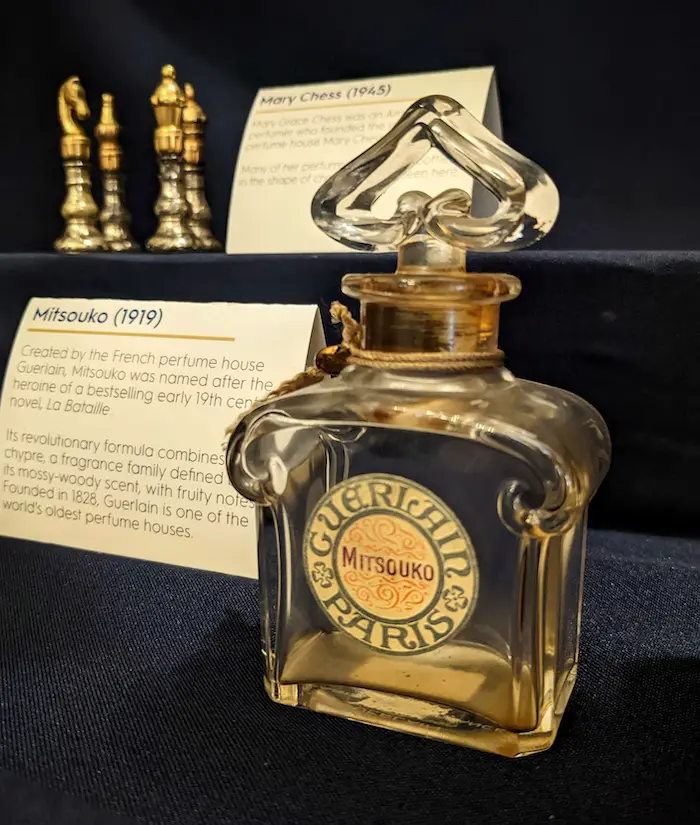 The value of some of these bottles runs at tens of thousands of dollars. Reportedly, Oud Al Doha is the most valuable bottle on display here.
Can you recognize the scents?
In the center of the exhibit, there are color-coded glass jars holding scented strips with various natural materials, woods, and resins commonly used in the middle east (as well as in modern perfumery). You can snoop around the exhibit for clues to identify them, blind test your nose, or scan a QR code and find out what each of them holds. I recommend doing all three.
(And you can touch the scent strips, they are tossed after each session. Although many of the materials are so potent that simply smelling the lid of the jar will give you a powerful scent blast. It is best to start slow and take short whiffs. If you assault your nose, it's more difficult to move between the scents.)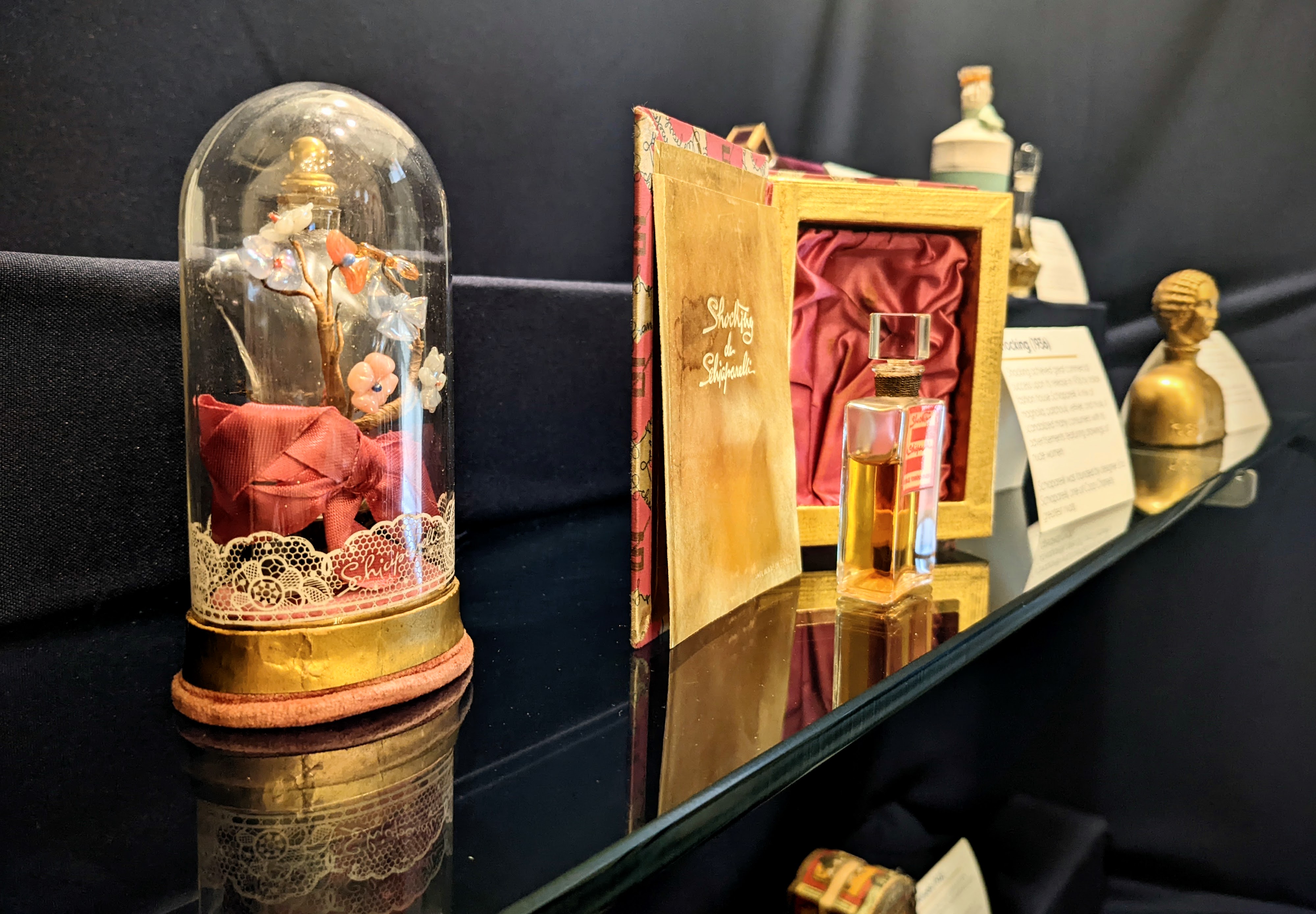 Of course, the Middle Eastern influence is the point here – pause to check out the bakhoor and mabkhara, still used in Qatar homes and during many cultural events.
It's a place where olfactory culture can be enjoyed by all
QAIC aims to educate the public on the history and art of fragrance. Besides the permanent exhibit, they hold special events and workshops. They cooperate with local businesses to make them happen. Recently, the DIY Scent Studio of Northern Virginia held a perfumery workshop here, where the participants had a chance to work with perfumery organ with over 100 aroma materials and create their own fragrance.
Future plans at the Perfumery museum
This December, an annual IMPART Summit will take place here, hosting a panel featuring experts on sustainability in olfactory art. And for 2023, an olfactory symposium and more workshops are on the books. If you want to keep an eye on them, I suggest signing up for alerts on QAIC's website.
The Qatar America Institute for Culture is located a few steps from Dupont Circle – 1319 18th St NW, just across from the Tatte Bakery & Cafe. (And yes, a coffee and a croissant while you soak up all the new knowledge after your visit is a great idea.)
How to get there
Parking in the area can be complicated, so if you need to drive here, check for parking garages in the area. The Institute is very close to the Dupont Circle metro stop.
Do you plan to check the museum out? Are there other exhibits about perfumery around the world that you visited? Let me know in the comments.